Applicant Services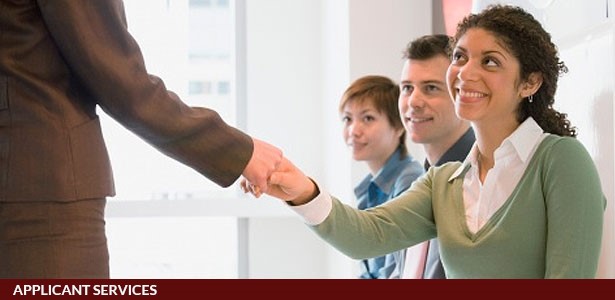 The Recruitment Officer conducts the pre-screening of candidates. Only those who are qualified will be endorsed to the employer by the Projects Coordinator for final interview and approval. In coordination with our principal's Representative to the Philippines, we will solicit their participation in the final interview. If this is not physically possible, then we will keep timely communication with the principal and send the résumés of qualified applicants through email and telephone for final approval.
Trade Test
The candidates can be required to undergo a trade test, if applicable to their particular category, at registered testing facilities in order to determine their skill level. After test completion, a certificate will be issued from the facility; this will be attached to the résumés that will be emailed to the principal.
Job Acceptance & Medical Exams
Approved or selected candidates are required to accomplish a form stating their acceptance the job offer and the terms of their placement. They are then required to submit to physical and physiological examination at prescribed accredited clinics to certify their health and capability to work abroad.
Documentation
All required papers, i.e. ID pictures, passport, clearances, medical certificate, trade test certificate and other documents necessary, in support of the visa issued by the principal will be asked from the candidate. Depending on the destination country, the visa may be required to be stamped on the candidate's passport.
Processing
Once all document requirements are completed they must be forwarded to the Philippine Overseas Employment Administration (POEA), a government office specialized to regulate, document and process the clearance of all Overseas Filipino Workers (OFW) for deployment abroad. The company's efficient workforce ensures satisfactory processing of applicants. All necessary documents are collected in the shortest possible time to meet our principal's expected deployment date.
Pre-Departure Orientation Seminar
Every departing OFW must attend the seminar prior to deployment so as to be aware of overseas employment guidelines, references and of their own protection. The company provides behavioral guidelines to overseas bound employees with regard to the culture, religion, social history, climate, government, justice and monetary systems of their country of destination.
Requirements for Job Applicants:
Resume or CV (Curriculum Vitae)
Original NBI Clearance
Employment Certificate
Passport (Copies of All page, even the blank pages)
Copy of Degree/Diploma (all degrees)
Copy of Transcript (Bachelors & Masters)
Copy of Training or Program Certifications (short courses etc.)
4 Pcs. Passport Size Pictures & 1 Full Body (3R)